Erectile Dysfunction & Other Erection Difficulties
Erectile Dysfunction & Other Erection Difficulties
Impotence or Erectile Dysfunction is an inability to achieve or maintain an erection to complete satisfactory intercourse or other desired sexual activity. Not all sexual activity requires an erection. An erection is not always necessary to achieve an orgasm, with or without ejaculation.
Read more about erection difficulties below.
16-19 yo(

n

 

= 395)

20-29 yo(

n

 

= 1,912)

30-39 yo(n

 

= 2,271)​
40-49 yo(n

 

= 2,054)​

50-59 yo(

n

 

= 1,735)

Trouble keeping erection

4.3%

4.5%

5.1%

12.5%

19.2%

Used treatment to aid erection

0.0%

0.3%

0.2%

1.4%

5.2%
Adapted from Richter et al, 2003 1
HOW COMMON IS ERECTILE DYSFUNCTION?
According to Andrology Australia, at least one in five men over the age of 40 years, increasing to about two in three men over the age of 70 years, often experience erectile problems, and about one in ten men are completely unable to have erections 2.
Impotence Australia reported similar results:
13.1% of men aged between 40 and 49 years;
33.5% of men aged between 50 and 59 years;
51.5% of men aged between 60 and 69 years; and
69.2% of men aged between 70 and 79 years.
Incidence of reported erectile difficulties increases with age.  With each decade of age, the chance of having erectile problems increases.
An erection can be considered a simple process. The penis contains two spongy tubes which run the length of the penis. The spongy material is surrounded by a tough fibrous, partially elastic covering.
A message is sent through nerves that leave the lower spinal cord and tells the blood vessels entering the spongy tissue of the penis to allow in more blood. The flow of blood out of the penis is then blocked off so the penis fills with blood and stretches within the outer casing. This creates an erection.
In fact an erection is the result of a very complex range of chemicals in the body that work together. At any one time, the muscle cells in the spongy tissue and in the blood vessels are influenced by a balance of chemical factors, some which cause an erection and some which encourage a flaccid or soft penis.
There are three types of erection:
Erotic erection resulting from sexual arousal;
Refloxogenic erection resulting from genital stimulation;
Nocturnal penile tumescence 4.
The erotic erection can be triggered by sexual arousal, which arises from sustained focus on erotic stimulation (visual, tactile, imaginative) and experience of sexual pleasure.
Stimulation of the genital area results in erection by activating a spinal reflex arc (S2-S4) via the pudenal nerve (afferent) and parasympathetic outflow via cavernosal nerves (efferent). As men age (over 50 years) sexual response to purely psychogenic stimuli is less robust and direct genital stimulation is required to maximise erectile response and create a fully hard erection.
Nocturnal penile tumescence
Erections occur during sleep at the same time as rapid eye movement (REM or dreaming) sleep. Men have approximately four to six erections which last around 15 to 20 minutes and recur every 90 minutes per night. Men often wake during the last of these cycles and this is known as a waking erection.
Nocturnal penile tumescence (NPT) and waking erections are signs that the neurovascular axis of erections is intact. Loss of NPT may be an indicator of an organic basis for ED. However NPT can also be disrupted by sleep disorders such as sleep apnoea and nocturnal myoclonus (restless legs). Men with major depression may lose NPT. Alcohol and drug abuse, antidepressants, anticonvulsants, sedatives, hypnotics and beta-blockers may also impair NPT.
Nocturnal penile tumescence is essential for maintaining healthy penile structure and function. During NPT the penis, which is relatively hypoxic in the vasoconstricted flaccid state, is flushed with oxygenated blood that inhibits the laying down of fibrous tissue in the copra cavernosa. Loss of NPT results in 1) increased fibrosis of penile tissue and 2) loss of smooth muscle, contributing to veno-occlusive dysfunction and subsequent ED.
The refractory period is the time after orgasm and ejaculation when the penis is unresponsive, or refractory, to sexual stimulation and another erection is normally not possible. The refractory period lasts about 20 minutes at the age of 25 and increases duration with each passing year. At the age of 55 the refractory period can be from 24 hours and up to 1 week. During the post-ejaculatory refractory period the penile sensory threshold is elevated.
WHAT CAUSES ERECTION DIFFICULTIES?
The cause of erection difficulties can be physical, psychological or a combination of both.
The physical causes of erection difficulties can include:
Diabetes
High cholesterol
Heart disease
Post prostate cancer
High blood pressure
Alcohol or other drug use
Some prescribed drugs
Disease of the liver and kidney
Surgery to the bladder, prostate gland, lower bowel and spine
Poor blood flow to the penis resulting from blocked arteries
Psychological causes of erection difficulties can include:
anxiety or stress
anxiety about sexual performance or sexual identity
fear of sexual contact (from issues such as pregnancy or HIV/Sexually Transmitted Diseases)
psychological trauma or abuse
sexual problems with partner
sexual boredom
depression
lack of communication in the relationship or other relationship issues
grief or the effects of illness of self or family member
WHAT DOES COUNSELLING INVOLVE FOR ERECTILE DYSUNCTION?
The first session is what is called an intake and history session. In this session you will be asked questions about your sexual health and history, as well as your general health. The questions will explore the history of erection difficulties and aims to identify the cause/s of erection difficulties. If there is a possible physiological basis to your erection difficulties you may be referred back to your GP for further investigation as part of your psychosexual therapy. Often erection difficulties have a psychological basis, where a physical basis exists or not.
After your first session, a personalised treatment plan will be developed to assist you in developing healthy erections. As part of your therapy you will be expected to complete "home-work" exercises.
WHAT BENEFITS AND OUTCOMES CAN I EXPECT FROM COUNSELLING FOR ERECTILE DYSFUNCTION?
The outcomes you can expect from erectile dysfunction counselling are:
Understanding the underlying issue which results in erectile issues;
Understand erections and how they work;
Develop skills to better manage erections;
Develop skills to increase erection function; and
Learn new ways of being sexual.
WILL MEDICATIONS FIX THE PROBLEM?
Yes and no. Medications may help in some cases to get an erection, especially if there is a physiological basis to the erection difficulties. These medications however, do not deal with the psychological causes. Medications will not work with all physiological causes of erection difficulties. Speak to your GP about the use of medications.
ARE THERE OTHER TREATMENT OPTIONS?
Yes there are other treatments available. These are often referred second and third line treatments. First line treatments are psychsoexual therapy and/or the use PDE-5 Inhibitors. Yet, medications, as noted above, may not fix the problem if there are psychogenic issues underlying the ED as is often the case. These third line treatments are best when men can never get an erection or erection difficulties post-prostatectomy.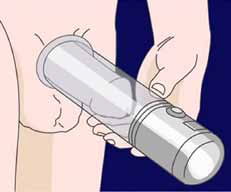 Vacuum erection devices (VED) or penis pumps maybe another option.  There are many devices available.  You can purchase a penis pump from any adult toy shop, yet not all penis pumps are the same.  There are also specially designed pumps available.
A VED works on the premise of creating a vaccuum around the penis, or negative pressure, which draws blood into the spongey tubes (corpora cavernosa). The erection is maintained by the use of a penis (or cock) ring around the base of the penis – trapping the blood inside. The resultant erection is suitable for penetration. According to Smith et al (2010) successful vaginal penetration has been reported in up to 90% of cases. Satisfaction with the device ranges from 26% to 94% with long-term satisfaction reducing to 50%-64% after two years (Smith et al, 2010).
Vacuum erection devices are effective with most men especially when partial erections are not possible (Smith et al, 2010). VEDs are not invasive, yet no necessarily sexually appealing, have low complication rates with no restriction on use. The disadvantages also need to be considered. Use of a VED may result in bruising, and also pain in some cases (Smith et al, 2010). Men who use a VED may also experience difficulties with ejaculation due to the penis ring.
If you are interested in VED (penis pumps) checkout Dr Christopher's Recommendations at Aphrodite's Pleasure – RECOMMENDED online adult toy store.
Intracavernosal Injections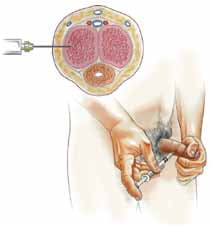 These can only be prescribed by a GP or physician. As a third line treatment option this is one is considered one of the last options. Injections are suitable for all causes of ED, yet there are a number of risk (Smith et al., 2010). These risks include priapasm (sustaining an erection for a long period which becomes painful), scar tissue, painful erections, urethal bleeding, tolerance of the drug, hypotension. Injections also have a low compliance rate (Smith et al., 2010).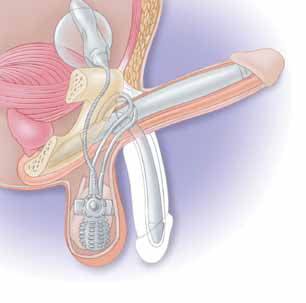 A penis prosthesis, or penile implant, is a last stage option. It is used when all other
options have been exhausted. There are three types of implants: a semi-rigid malleable rod device, a two-piece, and three-piece inflatable hydraulic devices 5. Penile prostheses are implanted through an operation performed by a urologist. There are benefits and risks associated which need to be considered.
There are other treatment options available, you can discuss these during your psychosexual therapy sessions or with your GP.
References
1 Richters, J., Grulich, A.E., de Visser, R.O., Smith, A.M.A., & Rissel, C.E. (2003). Sexual difficulties in a representative sample of adults. Australian & New Zealand Journal of Public Health, 27, 2, 164-170.
2 Andrology Australia. (2012). Erectile Dysfunction. Accessed 24/11/13 from: https://www.andrologyaustralia.org/sexual-difficulties-2/erectile-dysfunction-2/
3 Impotence Australia.(n.d.). Impotence. Accessed 24/11/13 from: http://www.impotenceaustralia.com.au/site/impotence.aspx
4 King, R. (2004). Management of Erectile Dysfunction in Primary Care Practice: Medical and psychological approaches. Australia: Written Word
5 Smith, I.A.R., McLeod, N., & Rashid, P. (2010). Erectile dysfunction: When tablets don't work. Ausralian Family Physician, 39, 5, 301-305
DISCLAIMER: The information contained on this website should be read as general in nature and only provides an overview of the subject matter. It should not be used as a substitute for medical and/or other professional advice. Also consult a trained professional psychosexual therapist or other healthcare provider.
Want to Make a Booking or Have a Question?
Call at (03) 9005 5213 or fill out our booking and enquiry form and we'll contact you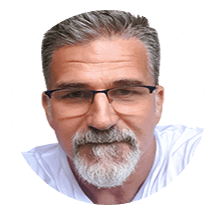 Experiencing difficulties in your sex life or relationship?
Dr. Christopher Fox and the team at Sex Life Therapy provide confidential and individualised sex therapy and relationship therapy to individuals and couples at two locations: Collingwood and Frankston (Mornington Peninsula/Bayside).
Contact the team on (03) 9005 5213 or use the form to request a confidential chat.