Introducing Lily Reed – the newest member of the Sex Life Therapy team. As a psychosexual therapist and counsellor, Lily provides a whole-picture approach to her therapy. We sat down and got to know a little about Lily and how she's been travelling.
How did you get your start in psychosexual therapy?
I got my start working in youth mental health and critical incident response. While I gained valuable experience through my work I wanted additional skills to support gender and sexually-diverse individuals with their psychological and sexual health and well-being. Growing up, sexuality education wasn't really part of the curriculum and that made me want to build awareness through psychosexual therapy.
I completed my Master of Science in Medicine (Sexual and Reproductive Health) at the University of Sydney, specialising in psychosexual therapy. Before that, I had completed a Bachelor of Psychological Science with Monash University, followed by a Master of Counselling, also at Monash.
In terms of working at Sex Life Therapy, how have you found it?
I love the atmosphere here and enjoy working with my clients. The team, as well, are a great group of therapists. We work to build each other up and share our wealth of knowledge. I am very proud to be part of a team that offers such a valuable service to so many people.
What attracted you to this role?
It's very well known that we have our physical, social and mental health, but our sexual health is often left out of that – and it shouldn't be. Sex is a part of our lives.  As we promote at Sex Life Therapy –  A healthy life includes a healthy sex life.
I think that a lot of people don't have the opportunity to discuss their sexual health and well-being. This role allows me to provide that – I like to start the conversation.
So, what can I come and see you for?
Come and see me if you're unsure and have questions. If you're in a new relationship and you want to learn how to communicate your sexual desires, wants and needs to your partner. Or maybe you've been in a relationship forever and you want to reignite the flame.
Can I see you if I'm not in a relationship?
Of course! Come see me and explore the person you want to be and how you express that.
To sum up – I see a wide range of clients, for a lot of different reasons. I see people in mixed desire relationships, with erectile dysfunction, vaginismus, and anorgasmia, who are exploring gender expression and navigating open relationships.  I also teach people about sexual touch and sensation.
How do teach people about sexual touch and sensation?
Sexual activity is such an umbrella term, and everyone has a different understanding and approach to it.  With that in mind, it's about sharing the knowledge that I've learned and that happens in many ways. Sometimes it's about definitions. What is foreplay? What is intercourse? Other times it's explaining an individual's anatomy or the reasons behind why we have sex.
When you see clients with vaginismus and erectile dysfunction where do you fit in?
Having a fulfilling sex life is as much psychological as it is physical, that's why clients experiencing vaginismus or erectile dysfunction are often referred to psychosexual therapists. As for where I fit in, I like to take a broad approach and consider all the factors. When it comes to vaginismus, I am often part of a team of professionals working with the individual and their partner/s.
When you see people, you're looking at the whole picture – it's never just about the bedroom essentially?
Essentially! We have lots of sexual thoughts, feelings, and behaviours to explore during therapy. That's why the process can usually begin at about eight sessions, however, it really depends on the client's commitment to the process.
What would a first session look like with you?
I like to set up the space in a way that's welcoming, bright, and comfortable. A space that facilitates an open discussion between the client and myself.I like to greet my clients in the waiting room and keep it quite casual. For some clients talking about sex can be uncomfortable however I like to reassure my clients that there's nothing they can say, that I haven't heard before.
A session with me is a safe, non-judgmental and sex-positive space.
Are there any myths you want to dispel about sex therapy?
I think there's a misconception that to see a sex therapist you need to have a concern, when in fact psychosexual therapy, allows people to learn about themselves. The process can be proactive, rather than reactive.
So one last question – what do you do when you're not in the office?
I love this question – What do I do? I like to keep busy! I love to hang out with my friends and explore Melbourne – that recharges my social batteries. As of late, I've been training in aerial hoop, which I really enjoy.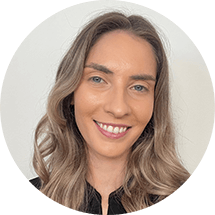 A huge thank you to Lily for sitting down to chat. Read more about Lily here.